See the calendar below for a week that you can sign up to help!

Sign-up right now here
TPC will start back up the fall of 2020.
Teen Parent Connection (TPC) is a nonprofit organization in DuPage County which provides comprehensive programs and services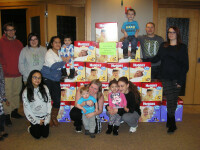 related to teenage pregnancy and parenting. For over 20 years, Knox has assumed the responsibility for providing the facility, childcare and family style meals as one of our vital mission and outreach programs.
Looking for an opportunity to help out teenage moms (and dads) and their little ones this new year? Why not sign up to provide and serve a pre-planned meal to TPC young parents and their infants and toddlers on Tuesday evenings? Meals need not be home cooked or complicated. Instructions, reimbursement and personal support are available. Dinner is served during the school year from September through May at 6:00 p.m., allowing you to finish before 7:30 p.m.!!
Questions? Please email Lori Rose or call Lori at 630-922-3743. Please consider choosing a date for you or your organization to help. TPC participants continually express their gratitude for the wonderful meals, hospitality and love they receive from Knox. We sincerely thank you for your past and continued support!
To learn more about Teen Parent Connection, please refer to their website: http://www.teenparentconnection.org/
The following menus are suggested to provide variety but we welcome food of your choice. Please provide dinner for 8-10 people - example: main dish, salad, bread, desert & lemonade. Disposable dinnerware and lemonade are furnished.
Dinner is served at 6:00 pm
| | | |
| --- | --- | --- |
| | 2020 Calendar | |
| Date | Menu | Dinner/Provider |
| Jan 7 | No TPC | Knox Event |
| Jan 14 | Tacos | Alice Snelgrove |
| Jan 21 | Lasagna or Pasta | Kids in the Kitchen |
| Jan 28 | Fried Chicken (Jewel, Browns, Popeyes, etc.) | Glenda Rossolillo |
| Feb 4 | Deli Sandwiches (meat & cheese tray & buns) | Candy Cairo & Dee Baies |
| Feb 11 | Tacos | Susan Tokh & John Willett |
| Feb 18 | Macaroni & Cheese | Ruth Circle |
| Feb 25 | Soup, Stew or Chili | Diane Heintz |
| Mar 3 | Hot Dogs | Jenny Hayford and Congregational Care |
| Mar 10 | Fried Chicken (Jewel, Browns, Popeyes, etc.) | Mission Council |
| Mar 17 | Sloppy Joes | On Break |
| Mar 24 | Baked Potatoes & Toppings | On Break |
| Mar 31 | No TPC | Spring Break |
| April 7-12 | No TPC | Holy Week |
| April 14 | no tpc | |
| Apr 21 | no tpc | |
| Apr 28 | no tpc | |
| May 5 | no tpc | |
| May 12 | no tpc | |