History of Knox Presbyterian Church
Knox Presbyterian held its first service in the Elmwood School gymnasium on September 11, 1960. Preparation had begun in May of that year through a door-to-door canvas, followed by "cottage style" meetings in homes. In December, the Presbytery of Chicago chartered Knox with 201 members.
Our new congregation continued to grow and develop under the leadership of our Session and youthful pastor, Kenneth Lehman, who was installed as the first pastor in January 1961. During the formation year, a development team selected the site for a new building. About two years later, in March 1963, Knox broke ground at the corner of Gartner and Catalpa. Dedication for the first building, which housed the sanctuary and offices, took place on December 15, 1963.
Growth continued, and in 1968 our congregation dedicated the first addition to the church building. In January 1990 more changes took place and in 2008 our congregation dedicated the most recent addition, over 18,000 square feet, which expanded the offices, classrooms, and added a multipurpose room with a stage. In addition we built our beautiful new Sanctuary with the wonderful stained glass window and outstanding pipe organ.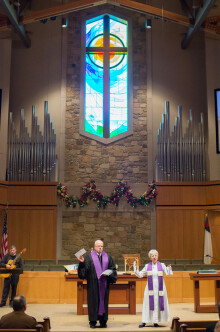 Today's building provides facilities for programs every day of the week, not just Sunday morning. It serves our congregation as well as the community with youth programs, day care, meals, Scouting, recreation, recovery and support groups, study, fellowship, weekend worship services and small groups.
Knox Presbyterian's congregation has grown to nearly 1,500 members. A full-time staff of 8 and a part-time staff of 32 (which includes the staff of the Children's Day Out program) direct the ministry and programs of the church. Additionally, several hundred volunteers extend the work and ministry of the church to our membership, community and world.