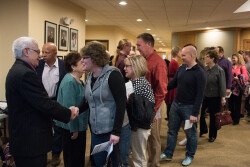 We invite all who regularly attend our services and missions to join us to learn more about our church and congregation. The classes give us a chance to get to know you more and for you to get to know Knox. There is plenty of time for open discussion and a great opportunity for you to ask questions.
These classes provide an opportunity to learn about our church, our denomination, and our missions and ministries. It is also a great place to get to know others who are considering joining. These informal classes are led by one of our elders and pastors and at the end there is an opportunity for those interested to become members.
Knowing Knox is offered twice a year - first in the spring and then later in the fall. Due to the current COVID-19 pandemic, we are unsure when the fall class will be offered but if you are interested in attending our next class or if you have any questions about membership, please contact Josh Weir.