Presbyterian Disaster Assistance responds to earthquake disaster in Nepal
The death toll from the massive earthquake in Nepal continues to rise. Nearly 4,000 are known dead and more than 6,000 were injured when the 7.8 quake struck just west of the capital of Kathmandu on April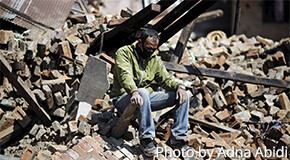 25. The quake, the worst in more than 80 years, along with many serious aftershocks has also caused damage in parts of India and Bangladesh.
Presbyterian Disaster Assistance (PDA) is providing emergency relief and short–term recovery in the impacted areas with our partner, ACT Alliance and its members who are already on the ground. Immediate response will help provide needed food, water, supplies and medicine to the impacted towns and villages. As long term recovery plans are developed, PDA will accompany and further financially support our partners in the area to insure that a comprehensive recovery is sustained.
The needs for the response will be great. God's people are once again called on to stand in the "GAP" – Give. Act. Pray.
Give: Financial support for relief efforts can be designated to DR999999 with reference to Nepal. Gifts can be made online, by phone (800) 872-3283 weekdays between 8 a.m. and 6 p.m. (EST), or checks can be mailed to Presbyterian Church (U.S.A.), P.O. Box 643700, Pittsburg, PA 15264-3700
Act: Learn how you can help families who have lost everything in the devastation. Stay informed and like us on Facebook.
Pray: Pray for those who suffered loss of family or those who are working tirelessly to provide rescue, humanitarian aid, and spiritual and psychological support.
For more information, visit www.pcusa.org/pda.
And after the earthquake….the sound of sheer silence, and a Voice said: 'what are you doing here?'" (1 Kings 19:12–13)

Be the presence of God with Presbyterian Disaster Assistance for the people of Nepal.